---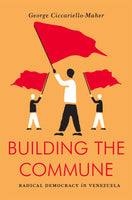 by George Ciccariello- Maher
Verso Books
10/11/2016, paperback
SKU: 9781784782238
Latin America's experiments in direct democracy 
Since 2011, a wave of popular uprisings has swept the globe, taking shape in the Occupy movement, the Arab Spring, 15M in Spain, and the anti-austerity protests in Greece. The demands have been varied, but have expressed a consistent commitment to the ideals of radical democracy.  
Similar experiments began appearing across Latin America twenty-five years ago, just as the left fell into decline in Europe. In Venezuela, poor barrio residents arose in a mass rebellion against neoliberalism, ushering in a government that institutionalized the communes already forming organically.
In Building the Commune, George Ciccariello-Maher travels through these radical experiments, speaking to a broad range of community members, workers, students and government officials. Assessing the projects' successes and failures, Building the Commune provides lessons and inspiration for the radical movements of today.
Reviews:
"Democracy has been emptied of its content, and Building the Commune offers an alternative model for political organization: the Commune, whose roots are in 1871 Paris but whose contemporary emergence is in Venezuela. A sharp and important book that puts at center-stage the ambitions of ordinary people to govern themselves." --Vijay Prashad, author of The Poorer Nations
"In the post-Chávez era in Venezuela, one under-reported institution stands out as the repository of popular aspirations: the Commune. George Ciccariello-Maher brilliantly describes their activities against the background of increasing political strife. Essential reading for all those anxious about the future of Venezuela." --Richard Gott, author of Hugo Chávez and the Bolivarian Revolution
About the Author:
George Ciccariello-Maher is Associate Professor of Politics and Global Studies at Drexel University in Philadelphia. He is the author of We Created Chávez: A People's History of the Venezuelan Revolution and Decolonizing Dialectics.