---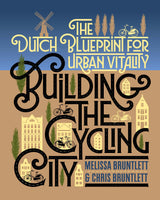 by Melissa and Chris Bruntlett
Island Press
8/28/2018, paperback
SKU: 9781610918794
In car-clogged urban areas across the world, the humble bicycle is enjoying a second life as a legitimate form of transportation. City officials are rediscovering it as a multi-pronged (or -spoked) solution to acute, 21st-century problems, including affordability, obesity, congestion, climate change, inequity, and social isolation. As the world's foremost cycling nation, the Netherlands is the only country where the number of bikes exceeds the number of people, primarily because the Dutch have built a cycling culture accessible to everyone, regardless of age, ability, or economic means.
Chris and Melissa Bruntlett share the incredible success of the Netherlands through engaging interviews with local experts and stories of their own delightful experiences riding in five Dutch cities. Building the Cycling City examines the triumphs and challenges of the Dutch while also presenting stories of North American cities already implementing lessons from across the Atlantic. Discover how Dutch cities inspired Atlanta to look at its transit-bike connection in a new way and showed Seattle how to teach its residents to realize the freedom of biking, along with other encouraging examples. 
Tellingly, the Dutch have two words for people who ride bikes: wielrenner ("wheel runner") and fietser ("cyclist"), the latter making up the vast majority of people pedaling on their streets, and representing a far more accessible, casual, and inclusive style of urban cycling--walking with wheels. Outside of their borders, a significant cultural shift is needed to seamlessly integrate the bicycle into everyday life and create a whole world of fietsers. The Dutch blueprint focuses on how people in a particular place want to move.
The relatable success stories will leave readers inspired and ready to adopt and implement approaches to make their own cities better places to live, work, play, and--of course--cycle.
Reviews:
"A fantastic history of the Dutch evolution into the bike-capital of the world and how its history and solutions can be applied... elsewhere. It should be required reading for every politician, planner, advocate, traffic engineer, or anyone else involved in the livable streets movement." -- "Streetsblog San Francisco"

"If cycling as a mode of transportation interests you and you're not impressed with our half-ass bike lanes, Building the Cycling City should be on your reading list." -- "Urban Review Saint Louis"
"When it comes to understanding how the urban biking revolution is transforming cities and the lives of real people, Melissa and Chris are the real deal. Now they have written a book that is engaging, inspiring, and practical. You don't have to love the Dutch way of building cities to love this book--you just need to love great storytelling, and want YOUR city to be better." -- Brent Toderian, City Planner & Urbanist, TODERIAN UrbanWORKS, former Chief Planner, City of Vancouver
About the Authors:
Chris and Melissa Bruntlett are co-founders of a marketing and communications firm focused on inspiring healthier, happier, simpler forms of mobility through words, photography, and film. For many years, they have been developing written and visual content, including videos, with a focus on storytelling rather than relaying quantitative information. Collectively, they have written hundreds of articles based on the experiences of their family both at home in Vancouver and in cities around the world.