---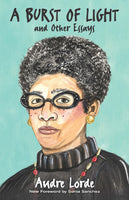 by Audre Lorde, Illustrated by Jen Keenan
Ixia Press
9/13/2017, hardcover
SKU: 9780486818993
Winner of the 1988 Before Columbus Foundation National Book Award, this path-breaking collection of essays is a clarion call to build communities that nurture our spirit. Lorde announces the need for a radical politics of intersectionality while struggling to maintain her own faith as she wages a battle against liver cancer. From reflections on her struggle with the disease to thoughts on lesbian sexuality and African-American identity in a straight white man's world, Lorde's voice remains enduringly relevant in today's political landscape.
Those who practice and encourage social justice activism frequently quote her exhortation, "Caring for myself is not self-indulgence, it is self-preservation, and that is an act of political warfare." In addition to the journal entries of "A Burst of Light: Living with Cancer," this edition includes an interview, "Sadomasochism: Not About Condemnation," and three essays, "I Am Your Sister: Black Women Organizing Across Sexualities," "Apartheid U.S.A.," and "Turning the Beat Around: Lesbian Parenting 1986," as well as a new Foreword by Sonia Sanchez.
Reviews:
"When I don't know what to do, I turn to the Lorde." -- Alexis Pauline Gumbs, Bitch Media
"You don't read Audre Lorde, you feel her." -- Essence
About the Author:
A great American theorist of race, sexuality, gender, living, and dying, poet and activist Audre Lorde (1934-1992) created a body of work that was ahead of its time in its embrace of intersectionality. Her debut poetry collection, 1973's From a Land Where Other People Live, was nominated for the National Book Award and she was named New York State's Poet Laureate and received the Bill Whitehead Award for Lifetime Achievement. Other notable works include The Cancer Journals, her novel Zami, and the collection Sister Outsider. A member of the Black Arts Movement and a prominent advocate of the Afro-German identity during her years studying in Berlin, Lorde's writings have become increasingly influential since her death in 1992 of liver cancer.