---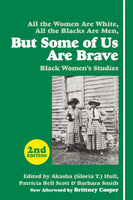 Edited by Akasha (Gloria T.) Hull, Patricia Bell-Scott and Barbara Smith
Feminist Press
2015, paperback
SKU: 9781558618985
Originally published in 1982, All the Women Are White, All the Blacks Are Men, But Some of Us Are Brave: Black Women's Studies is the first comprehensive collection of black feminist scholarship. Featuring contributions from Alice Walker and the Combahee River Collective, this book is vital to today's conversation on race and gender in America. With an afterword from "Salon" columnist Brittney Cooper.
Reviews:
"A clear statement about Black women. Congratulations to the editors for compiling such a fine interdisciplinary volume." —Geraldine K. Brookins, PhD, Jackson State University
"Exciting! Affirmations and the beginning of a new era, where the 'women' in women's studies will no longer mean 'white.'" —Audre Lorde
"This is 'necessary bread' for women of all colors. The essays contain not only fact and durable resources, but some of the best writing I've seen around." —Adrienne Rich
Akasha Gloria Hull, Ph.D., has taught literature and Women's Studies at a variety of institutions, most recently the University of California at Santa Cruz, and has published widely under the name Gloria T. Hull. Her previous books include Color, Sex, and Poetry: Three Women Writers of the Harlem Renaissance; Give Us Each Day: The Diary of Alice Dunbar-Nelson; All the Women Are White, All the Blacks Are Men, but Some of Us Are Brave (co-edited); and Healing Heart: Poems, She lives in northern California.
Barbara Smith lives in Edmonton, Alberta. She writes full-time and has been published in "New Trail," "Today's Parent," "Canadian Emergency News," "Western People" and "Teaching Today," among other publications.
Patricia Bell-Scott is the editor of Life Notes and co-editor of All the Women Are White, All the Blacks are Men, But Some of Us are Brave and Double Stitch, which won the Letitia Woods Brown Memorial Prize. She is also a contributing editor to "Ms." Magazine and a professor at the University of Georgia. She live in Athens.
Brittney Cooper is an assistant professor of women and gender studies and Africana studies at Rutgers University and a co-founder of the Crunk Feminist Collective.