---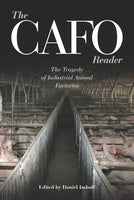 Edited by Daniel Imhoff
Watershed Media
2010
SKU: 9780970950055
The CAFO Reader is a collection of essays by more than 30 of today's leading thinkers on one of the most important environmental and ethical issues of our time: the rise of Concentrated Animal Feeding Operations, or CAFOs, where increasing amounts of the world's meat, dairy, eggs, fish, and seafood are produced.
Contributors include Michael Pollan, Wendell Berry, Fred Kirschenmann, Anna Lappé, Matthew Scully, Eric Schlosser, Andrew Kimbrell, and Wenonah Hauter. These essays analyze and vividly depict the devastating impacts and current conditions in and around factory farms. The collection also provides a compelling vision of "putting the CAFO out to pasture," in which food systems become more healthy, humane, and sustainable.
The CAFO Reader will quickly become an invaluable educational resource in the battle to reform the tragic state of industrial livestock production. It will also inform and influence the growing public movement of activists, farmers, policy makers, and consumers who are aiming to make our food healthier for ourselves and the planet.
The essays in this volume (with the exception of four articles only featured in the Reader) also appear in the larger photographic volume CAFO (Concentrated Animal Feeding Operations): The Tragedy of Industrial Animal Factories.