---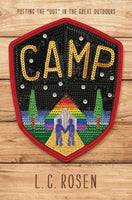 by L.C. Rosen
Little, Brown Books for Young Readers
5/25/2021, paperback

SKU: 9780316537773
From the author of the acclaimed Jack of Hearts (and other parts) comes a sweet and sharp screwball comedy that critiques the culture of toxic masculinity within the queer community.
Sixteen-year-old Randy Kapplehoff loves spending the summer at Camp Outland, a camp for queer teens. It's where he met his best friends. It's where he takes to the stage in the big musical. And it's where he fell for Hudson Aaronson-Lim -- who's only into straight-acting guys and barely knows not-at-all-straight-acting Randy even exists.
This year, though, it's going to be different. Randy has reinvented himself as 'Del' -- buff, masculine, and on the market. Even if it means giving up show tunes, nail polish, and his unicorn bedsheets, he's determined to get Hudson to fall for him.
But as he and Hudson grow closer, Randy has to ask himself: How much is he willing to change for love? And is it really love anyway, if Hudson doesn't know who he truly is?
Target age: 15-17
Reviews:
"Camp has everything you're looking for: A winning romance, a celebration of queerness, a reflection on what it takes to embrace your most authentic self, and answers to questions most queer boys often don't know how to ask in the first place."-- Caleb Roerhig, author of Death Prefers Blondes
"Camp is a divine treat. A subversive explosion of masc/fem stereotypes wrapped inside a sparkly, funny, heartstring-plucking romance. At once delightfully cynical and buoyantly hopeful, Rosen uses Camp to take aim at everything the LGBTQ community is currently wrestling with and needs to hear."-- Adam Sass, author of Surrender Your Sons
About the Author:
L. C. Rosen, also known as Lev Rosen, has written several books for adults and children, including the young adult novel Jack of Hearts (and other parts). His books have been featured on numerous Best of the Year lists and nominated for several awards. He lives in New York City with his husband and a very small cat.