---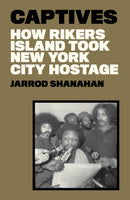 Sale
by Jarrod Shanahan
Verso
05/17/2022, hardcover
SKU: 9781788739955
Captives combines a thrilling account of Rikers Island's descent into infamy with a dramatic retelling of the last seventy years of New York politics from the vantage point of the city's jails. It is the story of a crowded field of contending powers — city bureaucrats and unions, black power activists and guards, crooked cops and elected leaders — struggling for power and influence, a tale culminating in mass incarceration and the triumph of neoliberalism. It is a riveting chronicle of how the Rikers Island of today — and the social order it represents — came to be.

Conjuring sweeping cinematic vistas, Captives records how the tempo of history was set by bloody and bruising clashes between guards and prisoners, between rank and filers and union bosses, between reformers and reactionaries, and between police officers and virtually everyone else. Written by a one-time Rikers prisoner, Captives draws on extensive archival research, decades of journalism, interviews, prisoner testimonials, and firsthand experience to deliver an urgent intervention into our national discussion about the future of mass incarceration and the call to abolish prisons. The contentious debate about the future of the Rikers Island penal colony rolls onward, and Captives is a must-read for anyone interested in the island and what it represents.
Reviews:
"Shanahan's lively must-read explains the power politics shaping New York City's municipal lockup frenzy." – Ruth Wilson Gilmore, author of Abolition Geography and Golden Gulag
"Captives is an important and timely book that vividly depicts how decades of class struggle and oppression, especially along the lines of race and gender, shaped the rise of Rikers Island as we know it today. A must read!" – Silvia Federici, author of Caliban and the Witch
"Captives is more than a history of the notorious Rikers Island; it is a riveting, caged bird's eye view of the tumultuous shift from postwar liberal dreams of penal reform to neoliberal punishment, police power, and the rise of the carceral state. Ultimately, it is a book about class struggle — how we got from build better to lock 'em up to shut it down." – Robin D. G. Kelley, author of Thelonious Monk: The Life and Times of an American Original and Freedom Dreams
About the Author:
Jarrod Shanahan is a writer, activist, and educator based in Chicago. He works as an Assistant Professor of Criminal Justice at Governors State University in University Park, Illinois, and is the coauthor of States of Incarceration: Rebellion, Reform, and the Future of America's Punishment System; a co-editor of Treason to Whiteness Is Loyalty to Humanity, a Noel Ignatiev reader; and an editor of Hard Crackers: Chronicles of Everyday Life.