---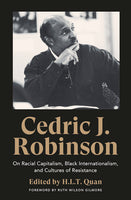 by Cedric J. Robinson
Pluto Press (UK)
12/1/2019, paperback
SKU: 9780745340036
Cedric J. Robinson is considered one of the doyens of Black Studies and a pioneer in study of the Black Radical Tradition. His works have been essential texts, deconstructing racial capitalism and inspiring insurgent movements from Ferguson to the West Bank. For the first time, Robinson's essays come together, spanning over four decades and reflective of his diverse interests in the interconnections between culture and politics, radical social theory and classic and modern political philosophy. Themes explored include Africa and Black internationalism, World politics, race and US Foreign Policy, representations of blackness in popular culture, and reflections on popular resistance to racial capitalism, white supremacy and more. Accompanied by an introduction by H. L. T. Quan and a foreword by Ruth Wilson Gilmore, this collection, which includes previously unpublished materials, extends the many contributions by a giant in Black radical thought.
Reviews:
"Like W. E. B. Du Bois, Michel Foucault, Sylvia Wynter, and Edward Said, Robinson was that rare polymath capable of seeing the whole - its genesis as well as its possible future. No discipline could contain him. No geography or era was beyond his reach.... He left behind a body of work to which we must return constantly and urgently" -Robin D. G. Kelley, author of 'Freedom Dreams: The Black Radical Imagination'
About the Author:
Cedric Robinson was a Professor in the Department of Black Studies and the Department of Political Science at the University of California, Santa Barbara (UCSB). He headed the Department of Black Studies and the Department of Political Science and served as the Director of the Center for Black Studies Research. His books include 'Black Marxism: The Making of the Black Radical Tradition' (1983); 'Black Movements in America' (1997); and 'Terms of Order: Political Science and the Myth of Leadership' (1980).