---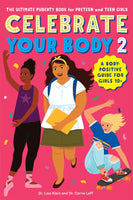 by Dr. Lisa Klein and Dr. Carrie Leff
Rockridge Press
11/19/2021, paperback
SKU: 9781641525756
Puberty is one of the first signs that you're growing up ― and that's something to be celebrated. If you're looking for body-positive puberty books for girls but aren't sure where to start ― Celebrate Your Body 2 provides the support needed to navigate this whole puberty thing with confidence.

From bras and braces to budding romantic feelings, this guide stands out among puberty books for girls as you become an expert on everything from pimples to peer pressure. Of all the puberty books for girls, this one will help you discover how your changing body is beautiful, special, and simply on the way to becoming the number one you.
Celebrate Your Body 2 goes beyond other puberty books for girls, including:
The shape of you ― Explore how and why your body is changing with advice on mysterious hair, period care, and more.
Cool and confident ― Find calmness during mood swings and increase your self-esteem using creative suggestions and confidence-building tips rarely found in puberty books for girls.
Close-knit vs. clique ― Learn about choosing the right friends, finding a trusting ear, and the importance of consent.
Target age: 10 to 18
Reviews:

"Celebrate Your Body 2 is a good book to get for an older, or at least more mentally mature, girl who is entering or going through puberty. As a more in-depth book in comparison to the first Celebrate Your Body, this book still focuses on the changes going on with a girl's body, but it also goes into the relationship aspects that girls may encounter with people of the opposite gender, emotional changes, dealing with consent, sex, and even gender identity." -- K. Chan
"Celebrate Your Body 2 is the perfect introduction to puberty, adolescence, and everything that goes along with them. Dr. Klein and Dr. Leff were able to present this potentially uncomfortable topic in a way that is easy and fun to read. As an OB/GYN, I plan to recommend this book to my patients and their daughters, and, as a mom, I look forward to reading this book with my three daughters." -- Dr. Alana Chakrabarti, OB/GYN, mother of 3 girls
About the Contributors:

Dr. Carrie Leff practices internal medicine and pediatrics with a passion for all aspects of women's health.
Dr. Lisa Klein is a pediatrician and advocate for teaching adolescents and parents how to communicate.