---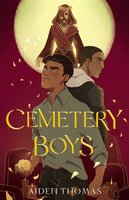 by Aiden Thomas
Swoon Reads
9/1/2020, hardcover
SKU: 9781250250469
A trans boy determined to prove his gender to his traditional Latinx family summons a ghost who refuses to leave in Aiden Thomas's New York Times-bestselling paranormal YA debut Cemetery Boys, described by Entertainment Weekly as groundbreaking.
Yadriel has summoned a ghost, and now he can't get rid of him.
When his traditional Latinx family has problems accepting his true gender, Yadriel becomes determined to prove himself a real brujo. With the help of his cousin and best friend Maritza, he performs the ritual himself, and then sets out to find the ghost of his murdered cousin and set it free.
However, the ghost he summons is actually Julian Diaz, the school's resident bad boy, and Julian is not about to go quietly into death. He's determined to find out what happened and tie off some loose ends before he leaves. Left with no choice, Yadriel agrees to help Julian, so that they can both get what they want. But the longer Yadriel spends with Julian, the less he wants to let him leave.
Reviews:
"Magical, swoonworthy, and utterly charming." -- Bitch Media
"Cemetery Boys is a celebration of culture and identity that will captivate readers with its richly detailed world, earnest romance, and thrilling supernatural mystery. This delightful debut is a must-read for all paranormal romance fans." -- Isabel Sterling, author of These Witches Don't Burn
About the Author:
Aiden Thomas, author of Cemetery Boys, received their MFA in Creative Writing from Mills College. Born in Oakland, California, Aiden often haunted Mountain View Cemetery like a second home during their misspent youth. As a queer, trans Latinx, Aiden advocates strongly for diverse representation in all media. Aiden is notorious among their friends for always being surprised by twist endings to books/movies and organizing their bookshelves by color. When not writing, Aiden enjoys exploring the outdoors with their dog, Ronan. Their cat, Figaro, prefers to support their indoor hobbies, like reading and drinking too much coffee.