---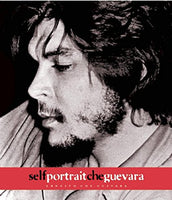 by Ernesto Che Guevara
Ocean Press
12/1/2008, paperback
SKU: 9781876175825
A PHOTOGRAPHIC AND LITERARY MEMOIR
At last, Che in his own words, beyond the icon! Discover the personal side of the legendary Che Guevara in this photographic and literary memoir that includes unpublished short stories, letters and poems written to his family, as well as photos from the Guevara family album, showing a surprisingly sensitive and artistic side to a man often seen as a hard-line revolutionary.
Unique among the many books about Che Guevara, this self-portrait reveals his remarkable candor, irony, dry wit, and, above all, his passion.
Edited by prominent Latin American poet and intellectual Victor Casaus, with the assistance of Che's children and widow (Aleida March).
Reviews:
"Che was the most complete human being of our age."--Jean-Paul Sartre
About the Author:

Che Guevara was the legendary Latin American guerrilla fighter who joined the Cuban revolutionary movement that toppled the Batista dictatorship. He played a leading role in the early years of the Cuban Revolution and made an extraordinary and original contribution to Marxist theory. He died at the hands of CIA assassins in Bolivia in 1967.