---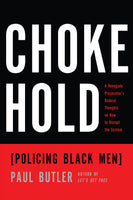 by Paul Butler
The New Press
9/18/2018, paperback
SKU: 9781620974834
With the eloquence of Ta-Nehisi Coates and the persuasive research of Michelle Alexander, a former federal prosecutor explains how the system really works, and how to disrupt it
Cops, politicians, and ordinary people are afraid of black men. The result is the Chokehold: laws and practices that treat every African American man like a thug. In this explosive new book, an African American former federal prosecutor shows that the system is working exactly the way it's supposed to. Black men are always under watch, and police violence is widespread--all with the support of judges and politicians.
In his no-holds-barred style, Butler, whose scholarship has been featured on 60 Minutes, uses new data to demonstrate that white men commit the majority of violent crime in the United States. For example, a white woman is ten times more likely to be raped by a white male acquaintance than be the victim of a violent crime perpetrated by a black man. Butler also frankly discusses the problem of black on black violence and how to keep communities safer--without relying as much on police.
Chokehold powerfully demonstrates why current efforts to reform law enforcement will not create lasting change. Butler's controversial recommendations about how to crash the system, and when it's better for a black man to plead guilty--even if he's innocent--are sure to be game-changers in the national debate about policing, criminal justice, and race relations.
Reviews:
"Paul Butler illuminates the complexities that shape racial injustice in America with a sharp, critical, intersectional analysis that is honest and sobering. Chokehold deconstructs all of the forces that have created despair and violence in the criminal justice system but courageously posits solutions as well. An important read for anyone searching for a more just system." --Bryan Stevenson, author of Just Mercy
"Paul Butler tells the unvarnished truth about the criminal justice system. Butler confronts just about everyone--police, prosecutors, judges, black elites, liberals, and radicals. A must-read for those with a serious interest in criminal justice." --Judge Shira Scheindlin (ret.), presiding judge in Floyd v. City of New York challenging the city's stop-and-frisk program
"Butler has hit his stride. This is a meditation, a sonnet, a legal brief, a poetry slam and a dissertation that represents the full bloom of his early thesis: The justice system does not work for blacks, particularly black men." --The Washington Post
"The most readable and provocative account of the consequences of the war on drugs since Michelle Alexander's The New Jim Crow . . . ." --The New York Times Book Review
About the Author:
A former federal prosecutor, Paul Butler provides legal commentary for CNN, MSNBC, and NPR and has been featured on 60 Minutes and profiled in the Washington Post. A law professor at Georgetown University, he is the author of Let's Get Free: A Hip-Hop Theory of Justice, winner of the Harry Chapin Media Award, and Chokehold: Policing Black Men (both from The New Press). He has published numerous op-eds and book reviews, including in the New York Times, the Washington Post, the Boston Globe, and the Los Angeles Times. He lives in Washington, D.C.