---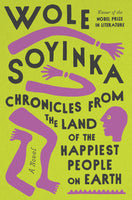 by Wole Soyinka

Pantheon Books
08/02/2022, paperback
SKU: 9780593314470
The first Black winner of the Nobel Prize in Literature gives us a tour de force, his first novel in nearly half a century: a savagely satiric, gleefully irreverent, rollicking fictional meditation on how power and greed can corrupt the soul of a nation. 
In an imaginary Nigeria, a cunning entrepreneur is selling body parts stolen from Dr. Menka's hospital for use in ritualistic practices. Dr. Menka shares the grisly news with his oldest college friend, bon viveur, star engineer, and Yoruba royal, Duyole Pitan-Payne. The life of every party, Duyole is about to assume a prestigious post at the United Nations in New York, but it now seems that someone is deter­mined that he not make it there. And neither Dr. Menka nor Duyole knows why, or how close the enemy is, or how powerful. 
Chronicles from the Land of the Happiest People on Earth is at once a literary hoot, a crafty whodunit, and a scathing indictment of political and social corrup­tion. It is a stirring call to arms against the abuse of power from one of our fiercest political activists, who also happens to be a global literary giant.
Reviews:
"Though his work has spanned multiple genres -- poetry, plays, memoirs and essays -- [Soyinka's] new novel manages to chart fresh territory... Chronicles combines elements of a murder mystery, a searing political satire and an Alice in Wonderland-like modern allegory of power and deceit." -Los Angeles Times
"It is Soyinka's greatest novel, his revenge against the insanities of the nation's ruling class and one of the most shocking chronicles of an African nation in the 21st century. It ought to be widely read." -- Ben Okri, The Guardian
"A biting satire that looks at corruption in an imaginary contemporary Nigeria, Chronicles is also an intriguing and droll whodunit... A brilliant story that takes on politics, class, corruption, and religion from the very first chapters. It highlights Soyinka's lush, elegant language." -- Publishers Weekly
About the Author:
Wole Soyinka was awarded the Nobel Prize in Literature in 1986. Born in Abeokuta, Nigeria, in 1934, he is an author, playwright, poet, and political activist whose prolific body of work includes The Interpret­ers, his debut novel that was published in 1965, and Death and the King's Horseman, a play that was first performed in 1976. So­yinka was twice jailed in Nigeria for his crit­icism of the Nigerian government, and he destroyed his U.S. Green Card in 2016 when Donald Trump was elected president of the United States.