---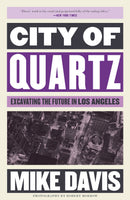 by Mike Davis
Verso Books
07/17/2018, paperback
SKU: 9781786635891
No metropolis has been more loved or more hated. To its official boosters, "Los Angeles brings it all together." To detractors, L.A. is a sunlit mortuary where "you can rot without feeling it." To Mike Davis, the author of this fiercely elegant and wide- ranging work of social history, Los Angeles is both utopia and dystopia, a place where the last Joshua trees are being plowed under to make room for model communities in the desert, where the rich have hired their own police to fend off street gangs, as well as armed Beirut militias.
In City of Quartz, Davis reconstructs L.A.'s shadow history and dissects its ethereal economy. He tells us who has the power and how they hold on to it. He gives us a city of Dickensian extremes, Pynchonesque conspiracies, and a desperation straight out of Nathaniel West--a city in which we may glimpse our own future mirrored with terrifying clarity. In this new edition, Davis provides a dazzling update on the city's current status.

Reviews:
"Davis' work is the cruel and perpetual folly of the ruling elites." -- New York Times
"As central to the L.A. canon as anything that Carey McWilliams wrote in the forties or Joan Didion wrote in the seventies." -- Dana Goodyear, New Yorker
"A wildly original analysis of the city on the threshold of the new millennium, the book synthesized knowledge about Los Angeles's history, politics, culture, architecture, policing, immigration, and more, painting a dark picture that embodied a kind of American urban dystopia on steroids after the nightmare of Reaganism and the 'developers' millennium.'" -- Micah Uetricht, The Nation
"Dazzling." -- Counterfire
About the Author:
Mike Davis is the author of many books including Set the Night on Fire, Prisoners of the American Dream, Old Gods, New Enigmas, Late Victorian Holocausts, The Monster Enters, Buda's Wagon, and Planet of Slums. He is the recipient of the MacArthur Fellowship and the Lannan Literary Award. He lives in San Diego.