---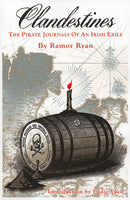 by Ramor Ryan
AK Press
2006
SKU: 9781904859550
Ramor Ryan's pirate journals read like Che's Motorcycle Diaries infused with Hunter S. Thompson's wit and flair for the impossible. A shrewd political thinker and philosopher, with a knack for ingratiating himself into the thick of precarious situations, Ryan has been there and lived to tell about it.
As much an adventure story as an unofficial chronicle of modern global resistance movements, Clandestines spirits the reader into subterranean locales, carefully weaving the narrative through illicit encounters and public bacchanals. From the teeming squats of Berlin, to intrigue in the Zapatista Autonomous Zone, a Croatian Rainbow Gathering on the heels of the G8 protests in Genoa, mutiny on the high seas, the Quixotic ambitions of a Kurdish guerilla camp, the contradictions of Cuba, and the neo-liberal nightmare of post-war(s) Central America we see everywhere a world in flux, struggling to be reborn.
Ramor Ryan is a rebellious rover and Irish exile who makes his home between New York City and Chiapas.
"At once celebratory and self-critical, Clandestines offers a geography lesson of the shadows, where borders are disregarded, revolution is in the air, and adventure is always just around the corner." - Jennifer Whitney, co-author of We Are Everywhere: The Irresistible Rise of Global Anticapitalism
"I'm convinced that all we need is about a hundred more Ramors and the revolution would commence tomorrow." - David Graeber, Fragments of an Anarchist Anthropology and  Direct Action: An Ethnography