---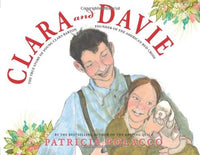 by Patricia Polacco
Scholastic Press
1/28/2014, hardcover
SKU:  9780545354776
From bestselling author Patricia Polacco's family tree--the true story of young Clara Barton.

Animals and flowers were Clara's best friends. She had a special way with critters and found joy in the beauty that sprang from the soil. But whenever Clara talked, her words didn't come out right. As hard as she tried, she could not get over her lisp.
Clara's older brother Davie understood that his sister was gifted. When folks made fun of Clara's stilted words, Davie was always at her side reminding her that she had a talent for healing creatures.
Davie told his sister, Some day you are going to be a very great lady. And that's exactly what happened. Clara Barton became one of the most famous medical practitioners of all time, and founded the American Red Cross.
About the Author:
Patricia Polacco is the bestselling and widely acclaimed author and illustrator of nearly one hundred picture books for children, including such classics as The Keeping Quilt, PInk and Say, and Thank You, Mister Falker. Many of her books are based on real-life events and narrative histories from her childhood. Clara and Davie began just this way. As a young girl, Patricia, who is related to Clara Barton, heard many stories about this great lady. Patricia lives on a farm in Union City, Michigan. Visit patriciapolacco.com.