---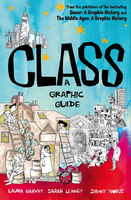 by Dr Laura Harvey and Dr Sarah Leaney, illustrated by Danny Noble
Icon Books
11/15/2022, paperback
SKU: 9781785786914
What do we mean by social class in the 21st century?
Sociologists Laura Harvey and Sarah Leaney and award-winning comics artist Danny Noble present an illustrated journey through the history, sociology and lived experience of class.
What can class tell us about gentrification, precarious work, the role of elites in society, or access to education? How have thinkers explored class in the past, and how does it affect us today? How does class inform activism and change?
Class: A Graphic Guide challenges simplistic and stigmatizing ideas about working-class people, discusses colonialist roots of class systems, and looks at how class intersects with race, sexuality, gender, disability and age. From the publishers of the bestselling Queer: A Graphic History, this is a vibrant, enjoyable introduction for students, community workers, activists and anyone who wants to understand how class functions in their own lives.
About the Contributors:
Dr Laura Harvey and Dr Sarah Leaney are senior lecturers in sociology at the University of Brighton. Laura's work draws on sociology, gender studies, social psychology and cultural studies. Sarah's work explores the connection between class and housing, with a focus on social housing and stigma.
Danny Noble is an illustrator and writer. In 2020 she published Shame Pudding, a graphic memoir, and won a Comedy Women in Print Award for her comic Was It... Too Much For You?. She has illustrated children's books by Adrian Edmondson.