---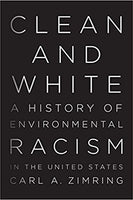 by Carl A. Zimring
New York University Press
2017, paperback
SKU: 9781479874378
When Joe Biden attempted to compliment Barack Obama by calling him "clean and articulate," he unwittingly tapped into one of the most destructive racial stereotypes in American history. This book tells the history of the corrosive idea that whites are clean and those who are not white are dirty. From the age of Thomas Jefferson to the Memphis Public Workers strike of 1968 through the present day, ideas about race and waste have shaped where people have lived, where people have worked, and how American society's wastes have been managed.

Clean and White offers a history of environmental racism in the United States focusing on constructions of race and hygiene. In the wake of the civil war, as the nation encountered emancipation, mass immigration, and the growth of an urbanized society, Americans began to conflate the ideas of race and waste. Certain immigrant groups took on waste management labor, such as Jews and scrap metal recycling, fostering connections between the socially marginalized and refuse. Ethnic "purity" was tied to pure cleanliness, and hygiene became a central aspect of white identity.

Carl A. Zimring here draws on historical evidence from statesmen, scholars, sanitarians, novelists, activists, advertisements, and the United States Census of Population to reveal changing constructions of environmental racism. The material consequences of these attitudes endured and expanded through the twentieth century, shaping waste management systems and environmental inequalities that endure into the twenty-first century. Today, the bigoted idea that non-whites are "dirty" remains deeply ingrained in the national psyche, continuing to shape social and environmental inequalities.
About the Author:
Carl A. Zimring is Professor of Sustainability Studies in the Department of Social Science and Cultural Studies at the Pratt Institute. He is the author of Cash for Your Trash: Scrap Recycling in America and general editor of the Encyclopedia of Consumption and Waste: The Social Science of Garbage.