---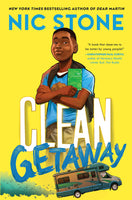 by Nic Stone
Yearling Books
1/5/2021, paperback
SKU:  9781984893000
From #1 New York Times bestselling author Nic Stone comes a timely middle-grade road-trip story through landmarks of the Civil Rights movement and the map they lay for contemporary race relations.
How to Go on an Unplanned Road Trip with Your Grandma:
Grab a Suitcase: Prepacked from the big spring break trip that got CANCELLED.
Fasten Your Seatbelt: G'ma's never conventional, so this trip won't be either.
Use the Green Book: G'ma's most treasured possession. It holds history, memories, and most important, the way home.
What Not to Bring:
A Cell Phone: Avoid contact with Dad at all costs. Even when G'ma starts acting stranger than usual.
Set against the backdrop of the segregation history of the American South, take a trip with this New York Times bestseller and an eleven-year-old boy who is about to discover that the world hasn't always been a welcoming place for kids like him, and things aren't always what they seem--his G'ma included.
Reviews:
"A heartwarming, family-centered adventure that will leave readers guessing until the end." -- Publishers Weekly
"Stone has crafted a history lesson in road-trip form....a good addition for school ­libraries seeking unconventional approaches to history." --School Library Journal
About the Author:
Nic Stone is an Atlanta native and a Spelman College graduate. After working extensively in teen mentoring and living in Israel for several years, she returned to the United States to write full-time. Nic's debut novel for young adults, Dear Martin, was a New York Times bestseller and a William C. Morris Award finalist. She is also the author of the teen titles Odd One Out, a novel about discovering oneself and who it is okay to love, which was an NPR Best Book of the Year and a Rainbow Book List Top Ten selection, and Jackpot, a love-ish story that takes a searing look at economic inequality.