---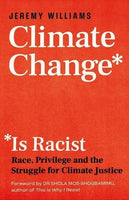 by Jeremy Williams
Icon Books
08/10/2021, paperback
SKU: 9781785787751
When we talk about racism, we often mean personal prejudice or institutional bias. Climate change isn't racist in that way. It is structurally racist, disproportionately caused by majority white people in majority white counties, with the damage unleashed overwhelmingly on people of color. In this eye-opening book, writer and environmental activist Jeremy Williams takes us on a short, urgent journey across the globe -- from Kenya to India, the USA to Australia -- to understand how white privilege and climate change overlap. We'll look at the environmental facts, hear the experiences of the people most affected on our planet, and learn from the activists leading the charge.
Reviews:
"Will open the minds of even the most ardent denier of climate change and/or systemic racism. If there's one book that will help you to be an effective activist for climate justice, it's this one." -- Dr. Shola Mos-Shogbamimu, author of This is Why I Resist: Don't Define My Black Identity
About the Author:
Jeremy Williams is a writer and campaigner for environmental and social justice. He writes The Earthbound Report (Britain's leading green blog) and edited the Extinction Rebellion book Time to Act. He grew up in Madagascar and now lives in Luton.