---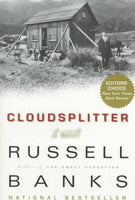 by Russell Banks
Harper Perennial
1/27/1999, paperback
SKU: 9780060930868
This brilliant recounting of the events surrounding John Brown's legendary raid on the armory at Harper's Ferry is a masterpiece of modern American storytelling.
"A huge and thunderously good book."-- "Chicago Tribune""It is surely the best novel, a furious, sprawling drama that commands attention like thunder heard from just over the horizon."-- "Time "Highly entertaining...and deeply affecting....Like the best novels of Nadine Gordimer, it makes us appreciate the dynamic between the personal and the political, the public and the private, and the costs and causes of radical belief."-- "New York Times" "Russell Banks's remarkable Cloudsplitter brings Brown back to life, not to teach history, but as the narrator of a morally questioning novel about fathers and sons and fanaticism and how madness is measured when the sane have fled."-- "USA Today"Like our living literary giants Toni Morrison and Thomas Pynchon, Russell Banks is a great writer wrestling withthe hidden secrets and explosive realities of this country."-- Cornel West"Of the many writers working in the great tradition today, one ofthe best is Russell Banks."-- "New York Times Book Review""Russell Banks is a writer of extraordinary power."-- "Boston Globe""Only a fewcontemporary writers have the kind of vision one has come to expect from Russell Banks; one thinks of Robert Stone, Don DeLillo, Joyce Carol Oates, Joan Didion, and perhaps William Kennedy and E. L. Doctorow."-- "Houston Post" "Russell Banks's work presents without falsehood and with a tough affection the uncompromising moral voice of our time. You find the craziness of false dreams, the political inequalities, and somehow the sliver of redemption. I trust his portrait of America more than any other--the burden of it, the need for it, the hell of it."
About the Author:
Russell Banks,
twice a finalist for the Pulitzer Prize, is one of America's most prestigious fiction writers, a past president of the International Parliament of Writers, and a member of the American Academy of Arts and Letters. His work has been translated into twenty languages and has received numerous prizes and awards, including the Common Wealth Award for Literature. He lives in upstate New York and Miami, Florida.