---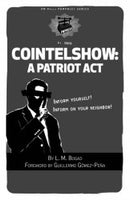 by L.M. Bogad
Forward by Guillermo Gómez-Peña
PM Press
2011
SKU: 9781604861150
Inform yourself! Inform on your neighbor!
Follow Special Agent Christian White on a cheerfully creepy tour of declassified government surveillance documents. White probes the redacted (blacked-out) texts of the FBI's notorious Counterintelligence Programs, searching for the words erased in the name of the Freedom of Information Act.
Learn fun techniques for the infiltration of activist groups, how to earn benefits and a pension as an agent provocateur, and how to, in the words of J. Edgar Hoover, "expose, disrupt, misdirect, discredit or otherwise neutralize" your neighbors!
These are our tax dollars at work, folks; we might as well enjoy it.
This script has been performed by writer/activist L.M. Bogad in theatres, galleries, labor halls, and community centers for the past twelve years. The pamphlet also includes a preface by Guillermo Gómez-Peña, and a companion essay by Bogad about the history of domestic surveillance/harassment, and a "how to" for would-be performers of the script.