---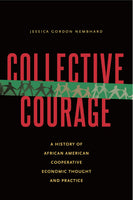 by Jessica Gordon Nembhard
Penn State University Press
11/15/2014, paperback
SKU: 9780271062174
In Collective Courage, Jessica Gordon Nembhard chronicles African American cooperative business ownership and its place in the movements for Black civil rights and economic equality. Not since W. E. B. Du Bois's 1907 Economic Co-operation Among Negro Americans has there been a full-length, nationwide study of African American cooperatives. Collective Courage extends that story into the twenty-first century. Many of the players are well known in the history of the African American experience: Du Bois, A. Philip Randolph and the Ladies' Auxiliary to the Brotherhood of Sleeping Car Porters, Nannie Helen Burroughs, Fannie Lou Hamer, Ella Jo Baker, George Schuyler and the Young Negroes' Co-operative League, the Nation of Islam, and the Black Panther Party. Adding the cooperative movement to Black history results in a retelling of the African American experience, with an increased understanding of African American collective economic agency and grassroots economic organizing.
To tell the story, Gordon Nembhard uses a variety of newspapers, period magazines, and journals; co-ops' articles of incorporation, minutes from annual meetings, newsletters, budgets, and income statements; and scholarly books, memoirs, and biographies. These sources reveal the achievements and challenges of Black co-ops, collective economic action, and social entrepreneurship. Gordon Nembhard finds that African Americans, as well as other people of color and low-income people, have benefitted greatly from cooperative ownership and democratic economic participation throughout the nation's history.
Reviews:
"With the 'free market' increasingly predatory toward poor and working poor people, seeking to turn poverty itself into a profit center, Jessica Gordon Nembhard's book couldn't be more timely. If cooperative economic arrangements have any future we must first learn their vital past." -- Adam Haslett, In These Times
"A book worth reading. Those who are interested in the social and historical context of African American struggle for equal rights and social justice, political struggle, the role of women in social change, heroic leadership, and in grassroots activism will find some precious nuggets of information. In short, Nembhard makes an important contribution to African American economic history that should interest educators and economists alike." -- Talmadge C. Guy, Adult Education Quarterly
About the Author:
Jessica Gordon Nembhard is Associate Professor of Community Justice and Social Economic Development in the Department of Africana Studies at John Jay College, City University of New York.