---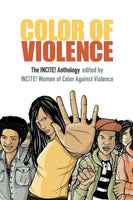 Edited by INCITE! Women of Color Against Violence
Duke University Press
2016, paperback
SKU: 9780822362951
Finally, back in print!
The editors and contributors to Color of Violence ask: What would it take to end violence against women of color?
Presenting the fierce and vital writing of organizers, lawyers, scholars, poets, and policy makers, Color of Violence radically repositions the antiviolence movement by putting women of color at its center. The contributors shift the focus from domestic violence and sexual assault and map innovative strategies of movement building and resistance used by women of color around the world.
The volume's thirty pieces which include poems, short essays, position papers, letters, and personal reflections cover violence against women of color in its myriad forms, manifestations, and settings, while identifying the links between gender, militarism, reproductive and economic violence, prisons and policing, colonialism, and war. At a time of heightened state surveillance and repression of people of color, Color of Violence is an essential intervention.
Contributors. Dena Al-Adeeb, Patricia Allard, Lina Baroudi, Communities Against Rape and Abuse (CARA), Critical Resistance, Sarah Deer, Eman Desouky, Ana Clarissa Rojas Durazo, Dana Erekat, Nirmala Erevelles, Sylvanna Falcon, Rosa Linda Fregoso, Emi Koyama, Elizabeth "Betita" Martinez, maina minahal, Nadine Naber, Stormy Ogden, Julia Chinyere Oparah, Beth Richie, Andrea J. Ritchie, Dorothy Roberts, Loretta J. Ross, s.r., Puneet Kaur Chawla Sahota, Renee Saucedo, Sista II Sista, Aishah Simmons, Andrea Smith, Neferti Tadiar, TransJustice, Haunani-Kay Trask, Traci C. West, Janelle White"