---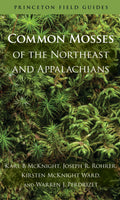 by Karl B McKnight, Joseph R. Rohrer, Kirsten McKnight Ward, Warren J. Perdrizet
Princeton University Press
2/25/2013, paperback
SKU: 9780691156965
A comprehensive guide to the mosses of the Northeast and Appalachians 
This is the first book to help general readers recognize 200 common mosses of the Northeast and the Appalachian Mountains. With just this field guide, a hand lens, and a spray bottle--no microscopes necessary--readers will be able to identify and name many of the common species of mosses growing in the region's backyards, parks, forests, wetlands, and mountains. At the heart of this guide is an innovative, color-tabbed system that helps readers pick out small groups of similar species. Illustrated identification keys, colorful habitat and leaf photos, more than 600 detailed line drawings, and written descriptions help differentiate the species. This accessible book allows all nature enthusiasts to make accurate identifications and gain access to the enchanting world of mosses. 
200 species included
More than 600 detailed line drawings
More than 400 color photographs
Innovative color-tabbed system for species identification
Illustrated species identification keys
Helpful tips for moss collecting
Reviews:
"Full of clear diagrams, excellent photos, and evocative descriptions, this splendid guide shows readers what mosses are and how to study them. Vegetative and reproductive characteristics are presented so that different species can be readily compared, feature by feature. This remarkable, delightful book makes a great contribution to the understanding and appreciation of moss diversity, and to the conservation of mosses." --Susan Moyle Studlar, West Virginia University

"This attractive and inviting guide will serve an important function in promoting the study of common mosses by nonspecialists. The interesting combination of drawings, field pictures, and dissecting microscope shots is effective, and the authors offer accurate, relevant, and scientifically solid information. A great addition to the botanical and natural history literature." --Jon Shaw, Duke University
About the Authors:
Karl B McKnight is associate professor of biology at St. Lawrence University. 
Joseph R. Rohrer is professor of biology at the University of Wisconsin-Eau Claire. 
Kirsten McKnight Ward is a third-generation botanist/field guide author and professional artist. 
Warren J. Perdrizet is a recent graduate of St. Lawrence University with a BS in biology.