---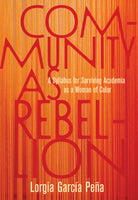 by Lorgia García Peña
Haymarket
5/31/2022, paperback
SKU: 9781642596922
A meditation on freedom making in the academy for women scholars of color.
Weaving personal narrative with political analysis, Community as Rebellion offers a meditation on creating liberatory spaces for students and faculty of color within academia. Much like other women scholars of color, Lorgia García Peña has struggled against the colonizing, racializing, classist, and unequal structures that perpetuate systemic violence within universities. Through personal experiences and analytical reflections, the author invites readers--in particular Black, Indigenous, Latinx, and Asian women--to engage in liberatory practices of boycott, abolition, and radical community-building to combat the academic world's tokenizing and exploitative structures.
García Peña argues that the classroom is key to freedom-making in the university, urging teachers to consider activism and social justice as central to what she calls "teaching in freedom" a progressive form of collective learning that prioritizes the subjugated knowledge, silenced histories, and epistemologies from the Global South and Indigenous, Black, and brown communities. By teaching in and for freedom, we not only acknowledge the harm that the university has inflicted on our persons and our ways of knowing since its inception, but also create alternative ways to be, create, live, and succeed through our work.
Reviews:
"A life-saving and life-affirming text, Community as Rebellion offers us the trenchant analysis and fearless strategy radical scholar-activists have long needed. But Lorgia García Peña's intervention is especially valuable at this moment, as we collectively consider how our most important social institutions might be reimagined beyond the strongholds of white supremacy, heteropatriarchy, and racial capitalism more broadly." -- Angela Y. Davis, author of Freedom is a Constant Struggle
"Community as Rebellion is partly an incisive and deeply personal expose of the neoliberal university and its racializing and patriarchal practices of denigrating women of color scholars while extracting their intellectual, administrative, and emotional labor. But it is, above all, a mandate to transform higher education that begins with recognizing our mutual obligations to each other and to the world we study, extending 'community' beyond the ivory tower, and co-creating with our students new, autonomous intellectual spaces. Lorgia García Peña wrote this book not from a dream or an abstract theory but from building rebel communities for over a decade. She knows that there can be no free education without freedom." -- Robin D. G. Kelley, author of Freedom Dreams: The Black Radical Imagination
About the Author:
Lorgia García Peña is a first generation Latinx Studies scholar. Dr. García Peña is the Mellon Associate Professor of Race, Colonialism and Diaspora Studies at Tufts University and a Casey Foundation 2021 Freedom Scholar. She studies global Blackness, colonialism, migration and diaspora with a special focus on Black Latinidad. Dr. García Peña is the co-founder of Freedom University Georgia and of Archives of Justice. Her book The Borders of Dominicanidad won the 2017 National Women's Studies Association Gloria Anzaldúa Book Prize, the Isis Duarte Book Award in Haiti and Dominican Studies and the 2016 Latino/a Studies Book Award. She is the author of Translating Blackness and the co-editor of the Texas University Press Series Latinx: The Future is Now. She is a regular contributor to The Boycott Times, Asterix Journal and the North American Council on Latin America.