---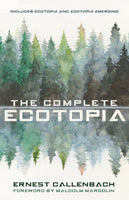 by Ernest Callenbach
09/21/2021, hardcover
Banyan Tree Books
SKU: 9781597145527
Published in hardcover for the first time in forty years, two classics of environmental science fiction
Collected in one handsome volume for the first time, The Complete Ecotopia presents an early classic of environmental science fiction in its entirety. Ecotopia (1975) and Ecotopia Emerging (1981), which paint detailed portraits of a healthier earth and a happier society, became foundational texts for a new wave of environmental activists, and they still contain an abundance of ideas yet to be realized. Ernest Callenbach's Ecotopian saga anticipated climate fiction by more than a decade, sold approximately one million copies and was translated into one dozen languages, and predicted a host of innovations running from C-SPAN to widespread recycling. This edition includes two retrospective essays by the author, as well as an updated foreword by Heyday founder Malcolm Margolin. An important document of utopian ideas from the sixties and seventies, The Complete Ecotopia is also a stimulating read for environmentalists today--one that tells a bold, inventive, and adventurous story.
Reviews:
"One of the most important utopian novels of the twentieth century that still has very important lessons to teach us. It will always convey to perfection the wild optimism of that moment: a feeling we need to recapture, adjusted for our time." -- Kim Stanley Robinson, author of The Lucky Strike

About the Author:
Ernest Callenbach was a writer and editor known primarily for his environmental fiction and nonfiction. He founded and edited the internationally acclaimed Film Quarterly. He also concurrently edited University of California Press's extensive list of film books as well as books in art and science, including the California Natural History Guide series. He occasionally taught film at the University of California, Berkeley, and at San Francisco State University.