---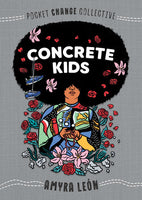 by Amyra León, Illustrated by Ashley Lukashevsky
Penguin Workshop
10/13/2020, paperback
SKU: 9780593095195
In Concrete Kids, playwright, musician, and educator Amyra León uses free verse to challenge us to dream beyond our circumstances -- and sometimes even despite them.
Pocket Change Collective is a series of small books with big ideas from today's leading activists and artists.
Concrete Kids is an exploration of love and loss, melody and bloodshed. Musician, playwright, and educator Amyra León takes us on a poetic journey through her childhood in Harlem, as she navigates the intricacies of foster care, mourning, self-love, and resilience. In her signature free-verse style, she invites us all to dream with abandon--and to recognize the privilege it is to dream at all.
Target age: 12 and up
Reviews:
"I will close my eyes and disappear into the pages of this book for many years to come." -- Hanif Abdurraqib (New York Times bestselling author of Go Ahead in The Rain: Notes to A Tribe Called Quest)
"Amyra's wondrous awe for life in all its terror and splendor is inspiring to witness." -- Rosario Dawson (award-winning actor, singer, and activist)
"A moving, inspiring love letter to and about 'the concrete kids. The kids with a melanin kiss.'" --  Kirkus Reviews  
"Leon's powerful book will embolden readers find their own ways of speaking out against injustice." --  Booklist, Starred Review
About the Contributors:
Amyra León is an author, musician, playwright, and activist. Her work transcends genre and medium, and focuses on Black liberation, politics, and communal healing. She believes that the art of listening and honest conversation are the primary tools for lasting change. Her aim is to empower communities to believe in the significance of their individual stories. The conversation has just begun.
Ashley Lukashevsky is an illustrator and visual artist born and raised in Honolulu, Hawaii, currently based in Los Angeles. Ashley uses illustration and art as tools to strengthen social movements against systemic racism, sexism, and anti-immigrant policy. She aims to tear down these systems of oppression through first envisioning and drawing a world without them.