---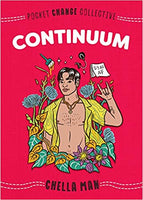 by Chella Man and illustrated by Ashley Lukashevsky
Penguin Workshop
6/1/2021, paperback
SKU: 9780593223482
In Continuum, fine artist, activist, and Titans actor Chella Man uses his own experiences as a deaf, transgender, genderqueer, Jewish person of color to talk about cultivating self-acceptance and acting as one's own representation. What constructs in your life must you unlearn to support inclusivity and respect for all? This is a question that artist, actor, and activist Chella Man wrestles with in this powerful and honest essay. A story of coping and resilience, Chella journeys through his experiences as a deaf, transgender, genderqueer, Jewish person of color, and shows us that identity lies on a continuum -- a beautiful, messy, and ever-evolving road of exploration.
Target age: 12-17
Reviews:
"Chella Man's journey is as compelling as it is brave and candid. I can't even imagine all the boxes people wanted to put him into and yet, he has emerged triumphant. His story will resonate with anyone who has a desire to be their true self. I can't wait to see the next chapter of his extraordinary life." -Marlee Matlin (Academy Award and Golden Globe-winning actress, author, and activist)
"Chella chronicles the value in creating your own mold in order to reclaim your space and to feel represented in this always ever-evolving world, and he inspires others to stretch what it means to be human--and there's no right way." -Nyle DiMarco (model, actor, and Deaf activist)
"Full of heart, grace and precision, Chella Man charts his path toward himself in a world not yet equipped for all he encompasses. An affirming, artistic and accessible primer for anyone searching for themselves or yearning to learn about others." -Janet Mock (Bestselling author of Redefining Realness and Surpassing Certainty) 
"Chella is the future. A total visionary and a wonderful example of a human being in every way. A master of empathy, courage, and growth." -Jameela Jamil (actress, model, writer, and activist)
About the Author:
Renowned for his personal documentation of his experience in gender transition, Chella Man is celebrated for his motto be your own representation. As a deaf, genderqueer, Chinese, and Jewish individual, Chella found he didn't have role models to look up to, and so he became a voice and a true representation for himself and for others. With over 290K subscribers and many millions of views on his YouTube video entitled One year on testosterone: voice updates, Chella is normalizing the conversation around gender issues for disabled and LGBTQ+ youth.

Since leaving high school as a junior to attend college early, Chella has written for Condé Nast's first queer publication Them, launched a radically inclusive clothing line in collaboration with Opening Ceremony, signed as the first deaf and trans masculine model with IMG Models, and was cast as a superhero within Warner Brother's DC Universe, Titans. He hopes to continue pushing the boundaries of what it means to be accessible, inclusive, and equal in this world. 
Ashley Lukashevsky is an illustrator and visual artist born and raised in Honolulu, Hawaii, currently based in Los Angeles. Ashley uses illustration and art as tools to strengthen social movements against systemic racism, sexism, and anti-immigrant policy. She aims to tear down these systems of oppression through first envisioning and drawing a world without them. Her clients include Refinery29, Broadly, The Washington Post, Planned Parenthood, Girls Who Code, GOOD magazine, Brooklyn magazine, ACLU, Red Bull, Snapchat, Air Jordan, and Logo TV. Ashley is also the illustrator of the best-selling Antiracist Baby, by Ibram X. Kendi.