---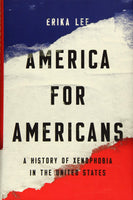 by Erika Lee
Basic Books
6/15/2021, paperback

SKU: 9781541672611
An award-winning historian reframes our continuing debate over immigration with a compelling history of xenophobia in the United States and its devastating impact
The United States is known as a nation of immigrants. But it is also a nation of xenophobia. In America for Americans, Erika Lee shows that an irrational fear, hatred, and hostility toward immigrants has been a defining feature of our nation from the colonial era to the Trump era. Benjamin Franklin ridiculed Germans for their "strange and foreign ways." Americans' anxiety over Irish Catholics turned xenophobia into a national political movement. Chinese immigrants were excluded, Japanese incarcerated, and Mexicans deported. Today, Americans fear Muslims, Latinos, and the so-called browning of America.
Forcing us to confront this history, America for Americans explains how xenophobia works, why it has endured, and how it threatens America. It is a necessary corrective and spur to action for any concerned citizen.
Reviews:
"As Erika Lee brilliantly shows, xenophobia has forever been an integral part of American racism. Forcing us to confront this history as we confront its present, America for Americans is essential reading for anyone who wants to build a more inclusive society." -- Ibram X. Kendi, New York Times-bestselling author of How to Be an Antiracist
"America for Americans is unflinching and powerful. Through extensive research and crystal clear prose, Erika Lee has masterfully tracked the phenomenon of xenophobia and its devastating effects on this nation's democracy and its people. Spurred on by unscrupulous politicians and key segments of the press, the cadence of fear, racism, and policy violence has rained down on immigrants since the colonial period and wreaked havoc on America's laws and claims of moral and human rights leadership. This is a must-read for all who need and want to understand how the 'leader of the free world' came to ban a religion, violate asylum laws, and lock babies in cages." -- Carol Anderson, New York Times-bestselling author of White Rage
About the Author:
Erika Lee is a Regents Professor, the Rudolph J. Vecoli Chair in Immigration History, director of the Immigration History Research Center at the University of Minnesota, and Andrew Carnegie Fellow. The author of The Making of Asian America and other award-winning books, Lee lives in Minneapolis, MN.