---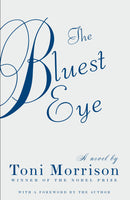 by Toni Morrison
Vintage
05/08/2007, paperback
SKU: 9780307278449
NATIONAL BESTSELLER - From the acclaimed Nobel Prize winner -- a powerful examination of our obsession with beauty and conformity that asks questions about race, class, and gender with characteristic subtly and grace.
In Morrison's acclaimed first novel, Pecola Breedlove -- an 11-year-old Black girl in an America whose love for its blond, blue-eyed children can devastate all others -- prays for her eyes to turn blue: so that she will be beautiful, so that people will look at her, so that her world will be different. This is the story of the nightmare at the heart of her yearning, and the tragedy of its fulfillment.
Reviews:
"So precise, so faithful to speech and so charged with pain and wonder that the novel becomes poetry." -- The New York Times
"A profoundly successful work of fiction... Taut and understated, harsh in its detachment, sympathetic in its truth...  it is an experience." -- The Detroit Free Press
"This story commands attention, for it contains one black girl's universe." -- Newsweek
About the Author:
Toni Morrison was the author of eleven novels and three essay collections. She received the National Book Critics Circle Award, the Pulitzer Prize, and in 1993 the Nobel Prize in Literature. She died in 2019.