---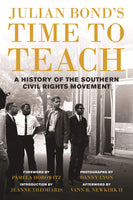 bu Julian Bond
Beacon Press
1/11/2022, paperback
SKU: 9780807014783
A masterclass in the civil rights movement from one of the legendary activists who led it.
Compiled from his original lecture notes, Julian Bond's Time to Teach brings his invaluable teachings to a new generation of readers and provides a necessary toolkit for today's activists in the era of Black Lives Matter and #MeToo. Julian Bond sought to dismantle the perception of the civil rights movement as a peaceful and respectable protest that quickly garnered widespread support. Through his lectures, Bond detailed the ground-shaking disruption the movement caused, its immense unpopularity at the time, and the bravery of activists (some very young) who chose to disturb order to pursue justice.
Beginning with the movement's origins in the early twentieth century, Bond tackles key events such as the Montgomery bus boycott, the Little Rock Nine, Freedom Rides, sit-ins, Mississippi voter registration, the Sixteenth Street Baptist Church Bombing, the March on Washington, the Civil Rights Act, Freedom Summer, and Selma. He explains the youth activism, community ties, and strategizing required to build strenuous and successful movements. With these firsthand accounts of the civil rights movement and original photos from Danny Lyon, Julian Bond's Time to Teach makes history come alive.
Reviews:
"The lessons in these lectures speak directly to the urgency of now, like an unsparing and prophetic admonishment to those who can or will not remember the past." -- Diane McWhorter, author of the Pulitzer Prize-winning book Carry Me Home
"Julian Bond's words continue to educate, inspire, and provoke. As we witness the emergence of new sensibilities regarding the complex ways racism has structured our institutions, Julian Bond's Time to Teach reminds us of historical continuities, unfulfilled dreams, and collective hope for the future." -- Angela Y. Davis, Distinguished Professor Emerita, History of Consciousness and Feminist Studies, University of California, Santa Cruz
About the Author:
Horace Julian Bond (1940-2015) was a leader in the civil rights movement, a politician, professor, writer, and activist. A founding member of the Student Nonviolent Coordinating Committee, he went on to serve as president of the Southern Poverty Law Center from 1971 to 1979. He served ten years in the Georgia House and six terms in the Georgia Senate. From 1998 to 2010, Bond was the board chairman of the NAACP. He taught at several universities, including the University of Virginia, where he spent twenty years as a professor in the history department. He is the author of A Time To Speak, A Time To Act.