---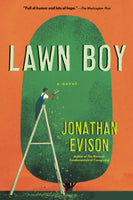 by Jonathan Evison
Algonquin Books
03/19/2019, paperback
SKU: 9781616209230
For Mike Muñoz, life has been a whole lot of waiting for something to happen. Not too many years out of high school and still doing menial work -- and just fired from his latest gig as a lawn boy on a landscaping crew -- he's smart enough to know that he's got to be the one to shake things up if he's ever going to change his life. But how? He's not qualified for much of anything. He has no particular talents, although he is stellar at handling a lawn mower and wielding clipping shears. But now that career seems to be behind him. So what's next for Mike Muñoz? In this funny, biting, touching, and ultimately inspiring novel, bestselling author Jonathan Evison takes the reader into the heart and mind of a young man determined to achieve the American dream of happiness and prosperity -- who just so happens to find himself along the way.
Reviews:
"Moving... Evison convincingly evokes the small disasters and humiliations that beset America's working poor. Mike's gradual growth into self-awareness is punctuated by moments of human kindness and grace that transpire in and among broken-down trucks, trailer parks, and strip malls. Focusing on the workers who will only ever be welcome in gated communities as hired help, Evison's quiet novel beautifully considers the deterioration of the American Dream." -- Publishers Weekly
"In Evison's tough and wry novel, Mike Muñoz is every person who wants a living wage and a little dignity, 'the opportunity to think beyond sustenance long enough to dream.' Jonathan Evison has written a fierce and funny novel about a young man's attempts to transcend class and poverty." -- Shelf Awareness
"Moving, hilarious, and uplifting... The genius of the novel, and of its author, lies in the complexity of emotions Mike's journey evokes, both from its hopeful beginning to its unexpected fulfillment. But it's also in the nature of that fulfillment -- in the subtle sleight of hand Evison works to show that the grass can be greener on either side of the fence." -- Four Corners Free Press
About the Author:

Jonathan Evison is the author of the novels All About Lulu, West of Here, The Revised Fundamentals of Caregiving, This Is Your Life, Harriet Chance!, Lawn Boy, and Legends of the North Cascades. He lives with his wife and family in Washington State.