---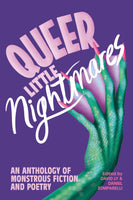 Edited by David Ly and Daniel Zomparelli
Arsenal Pulp Press
10/04/2022, paperback
SKU: 9781551529011
The fiction and poetry of Queer Little Nightmares reimagines monsters old and new through a queer lens, subverting the horror gaze to celebrate ideas and identities canonically feared in monster lit. Throughout history, monsters have appeared in popular culture as stand-ins for the non-conforming, the marginalized of society. Pushed into the shadows as objects of fear, revulsion, and hostility, these characters have long conjured fascination and self-identification in the LGBTQ+ community, and over time, monsters have become queer icons.
In Queer Little Nightmares, creatures of myth and folklore seek belonging and intimate connection, cryptids challenge their outcast status, and classic movie monsters explore the experience of coming into queerness. The characters in these stories and poems--the Minotaur camouflaged in a crowd of cosplayers, a pubescent werewolf, a Hindu revenant waiting to reunite with her lover, a tender-hearted kaiju, a lagoon creature aching for the swimmers above him, a ghost of Pride past--relish their new sparkle in the spotlight. Pushing against tropes that have historically been used to demonize, the queer creators of this collection instead ask: What does it mean to be (and to love) a monster?
Contributors include Amber Dawn, David Demchuk, Hiromi Goto, jaye simpson, Eddy Boudel Tan, and Kai Cheng Thom.
Reviews:
"This anthology features monsters both old and new reimagined through a queer lens, celebrating the ideas and identities so often stigmatized and feared in monster literature. The stories and poems are filled with kaiju and revenants and creatures from mythology pushed to the margins that LGBTQ people know so well and, this time, given their time to shine." -- Book Riot
"The ultimate gift of Queer Little Nightmares is to illuminate our own monstrous qualities and temptations, to bring us closer to what's uncomfortable, disgusting, disobedient and vicious within us, but also to what's exciting, ecstatic, pleasureful and liberatory." -- Xtra
About the Editors:
Daniel Zomparelli is the founder of Poetry Is Dead magazine and the author of the story collection Everything is Awful and You're a Terrible Person and the poetry collections Davie Street Translations and Rom Com (with Dina Del Bucchia). His podcast I'm Afraid That was listed as one of the best podcasts of 2018 by Esquire.
David Ly is the author of the poetry collections Mythical Man (shortlisted for the 2021 ReLit Poetry Award) and Dream of Me as Water. He is the poetry editor at This Magazine.