---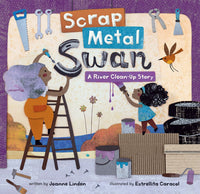 by Joanne Linden, illustrated by Estrellita Caracol
Barefoot Books
05/24/2022, paperback
SKU: 9781646864997
When community members work together with trucks and ships to clean up the town's riverfront, an artist and her child hammer, chisel, weld and zap the found materials into something beautiful. Young makers will find inspiration in the playful, rhyming text and mixed media illustrations, while endnotes provide recycled-art activity ideas.

Target age: 3 to 7
Reviews:
"What to do with junk, you ask? Townsfolk join together to collect the refuse clogging their river... This is an easy-to-understand tale about protecting the environment and using garbage for good, and readers will appreciate the community spirit at its heart" -- Kirkus Reviews
"A friendly environmental lesson about an artist making beauty from trash" -- School Library Journal
About the Contributors:
Joanne Linden grew up in Kinney, a small town in northern Minnesota, USA, where everyone knew each other and children spent their free time at the small library or playing outside. Joanne loved to read picture books. She still does! Today, she lives in the woods of Eau Claire, Wisconsin, USA, and is the author of many books for children.
Estrellita Caracol she loved stars, books and cutting out shapes from paper... and none of that has changed! She studied graphic design until she realized that what she liked the most was telling stories through her art. Estrellita lives in Buenos Aires, Argentina, with her son and three cuddly cats. She loves to travel and make collages with artists young and old wherever she goes.