---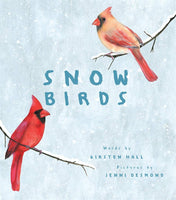 written by Kirsten Hall, illustrated by Jenni Desmond
Abrams Books for Young Readers
11/03/2020, hardcover
SKU: 9781419742033
Discover birds who survive winter against all odds in this poetic, gorgeously illustrated picture book.
Snowflakes whirling, snow-flocks swirling, streaks of white twirl through the night...
You've heard of birds who migrate to warmer climates in the wintertime -- but what about those who persevere through snowy weather and freezing temperatures? With elegant verse and striking illustrations, Snow Birds salutes the brave and resourceful birds who adapt to survive the coldest months.

Target age: 4 to 8
Reviews:
"A soulful, vivid look at the hidden world of winter birds."-- New York City Audubon
About the Contributors:
Kirsten Hall is a former teacher; the founder of the boutique children's book agency Catbird Productions; and the author of the picture books The Gold Leaf, The Jacket (a New York Times Notable Children's Book), and The Honeybee (a Lee Bennett Hopkins Honor Award winner). She lives in New York.
Jenni Desmond is an award-winning author-illustrator who has been a Maurice Sendak Fellow and a Kate Greenaway Medal nominee, and her book The Polar Bear was a New York Times Best Illustrated Children's Book. She is also the illustrator of Migration. She lives in East London.