---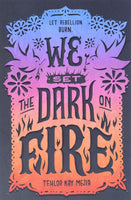 by Tehlor Kay Mejia
Katherine Tegen Books
01/14/2020, paperback
SKU: 9780062691323
At the Medio School for Girls, distinguished young women are trained for one of two roles in their polarized society. Depending on her specialization, a graduate will one day run a husband's household or raise his children. Both paths promise a life of comfort and luxury, far from the frequent political uprisings of the lower class.
Daniela Vargas is the school's top student, but her pedigree is a lie. She must keep the truth hidden or be sent back to the fringes of society.
And school couldn't prepare her for the difficult choices she must make after graduation, especially when she is asked to spy for a resistance group desperately fighting to bring equality to Medio.
Will Dani cling to the privilege her parents fought to win for her, or will she give up everything she's strived for in pursuit of a free Medio -- and a chance at a forbidden love?
Target age: 14 to 17
Reviews:
"Tehlor Kay Mejia makes an impressive debut in this thrilling tale of political intrigue... The author offers terrific suspense, compelling Latina heroines, a sizzling, forbidden romance and an interesting political backdrop of a nation with an entire mythology and founding narrative that conveniently supports the status quo." -- Buffalo News
"This well-crafted fantasy offers a mirror that reflects themes in our own difficult world, namely privilege, immigration, and individualism versus the common good. A queer subplot with sensual tenderness adds rich complexity to the story. Thrilling and timely." -- Kirkus Reviews
About the Author:
Tehlor Kay Mejia is a bestselling and award winning author of young adult and middle grade fiction. Her debut young adult novel, We Set the Dark on Fire, received six starred reviews, as well as the Oregon Spirit Book Award for debut fiction, and the Neukom Institute Literary Arts Award runner up honor for debut speculative fiction. Its sequel, We Unleash the Merciless Storm, followed to continuing acclaim, while Miss Meteor (co-written with National Book Award Nominee Anna-Marie McLemore) was named to the American Library Association's 2021 Rainbow List, honoring outstanding contributions in LGBTQIA teen fiction. Tehlor lives with her daughter, partner, and two small dogs in Oregon, where she grows heirloom corn and continues her quest to perfect the vegan tamale.