---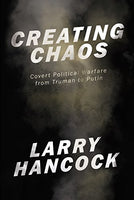 by Larry Hancock
OR Books
9/4/2018, paperback
SKU: 9781944869878
Creating Chaos presents and illustrates the full body of covert and deniable political warfare practices, tracing their historical development and their use by both America and Russia throughout the Cold War and beyond. Using the most current information available, Hancock, a "veteran national security journalist" (Publishers Weekly) examines the evolution of political warfare tools and tactics in the era of the global Internet and ubiquitous social media, evaluating their effectiveness and illustrating the rapidly increasing levels of risk associated with these new and untested cyber-warfare tools.
Virtually no books have studied actual political warfare beyond the Cold War, and only a handful have provided any insights into the new and rapidly evolving practices of the Russian Federation or of the political warfare aspect of NGOs or other surrogate actors.
A companion volume to Shadow Warfare: The History of America's Undeclared Wars, Creating Chaos introduces the nature and history of political action practices, exploring a number of formerly secret American and Russian hybrid warfare and active measures projects in detail. With that background for context, it then extends those practices into the twenty-first century and contemporary events, evaluating well established practices as they are being used with the newest tools of the global Internet and social media. It demonstrates the exponential increase in their effectiveness--and the equally exponential risk and consequences involved.
About the Author:
Larry Hancock brings formal training in history and cultural anthropology to his research and writing on Cold War history and national security subjects. Following service in the United States Air Force, he started his career in computer/communications and technology marketing, which allowed him to become involved in and consult on strategic analysis and planning studies. With seven books in print, Hancock's most recent works include an exploration of long-term patterns in covert action and the assassination of Martin Luther King, Jr.