---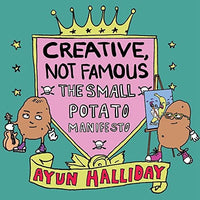 by Ayun Halliday
Microcosm Publishing
5/10/2022, paperback
SKU: 9781648410598
Few artists achieve fame and fortune, but that doesn't mean your creative life can't flourish. Writer, illustrator, zinemaker, and playwright Ayun Halliday interviewed dozens of creative people and shared her own experiences to produce this rallying cry for the "small potato"—someone whose focus is making cool, meaningful work and living a creative life rather than achieving wealth or celebrity. Sections range from the practice of artmaking to wrangling self-doubt to DIY marketing and self-promotion. Along the way, Halliday shows that your art can bring you satisfaction, success, community, and a modest income—without losing sight of your reasons for doing it in the first place. 
Reviews:
"Her ability to transmute love and anxiety into creative inspiration felt like something akin to magic. Now she's collected all her best hard-won knowledge and advice plus a whole bunch of other artists' and writers' best hard-won knowledge and advice and we all win! This book is the antidote to both imposter syndrome and the bullshit of every gatekeeper you've ever met. Every writer and artist—aspiring, emerging, or old and bitter—must read it." - Ariel Gore, author of We Were Witches
"Full of wisdom, practical advice, anti-capitalist ethos and joy that will inspire any artist to get cracking and stay excited about their work." - Nicole J. Georges, illustrator featured in Girls Will Be Boys Will Be Girls: A Coloring Book

About the Author:
Ayun Halliday was born in Indianapolis, Indiana and came of age at the height of the preppy craze. After graduating from Northwestern University, she joined the experimental theater troupe the Neo-Futurists where she met her husband Greg Kotis, a playwright best known for the musical Urinetown. She currently lives in New York City where she is the brains behind the East Village Inky Zine and the author of No Touch Monkey, Dirty Sugar Cookies, and others.