---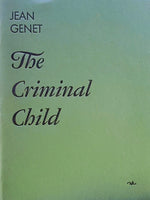 by Jean Genet
2015, paperback
SKU: n/a
From the cover:
"As for me, I have chosen: I will be on the side of crime. And I will help the children, not to win back access to you houses, your factories, your schools, your laws, and sacraments, but to destroy them."
Originally published in 1949.
Pages: 88
Dimensions: 4 ⅛ x 5 ¼
About the Author:
Jean Genet (1910-1986) was born in Paris. Abandoned by his mother at seven months, he was raised in state institutions and charged with his first crime when he was ten. After spending many of his teenage years in a reformatory, Genet enrolled in the Foreign Legion, though he later deserted, turning to a life of thieving and prostitution that resulted in repeated jail terms and, eventually, a sentence of life imprisonment. In prison Genet began to write--poems and prose that combined pornography and an open celebration of criminality with an extraordinary baroque, high literary style--and on the strength of this work found himself acclaimed by such literary luminaries as Jean Cocteau, Jean-Paul Sartre, and Simone de Beauvoir, whose advocacy secured for him a presidential pardon in 1948. Between 1944 and 1948 Genet wrote four novels, Our Lady of the Flowers, Miracle of the Rose, Funeral Rites, and Querelle, and the scandalizing memoir A Thief's Journal. Throughout the Fifties he devoted himself to theater, writing the boldly experimental and increasingly political plays The Balcony, The Blacks, and The Screens. Becoming more politically active after the May '68, Genet spent time in the US with members of the Black Panther Party and in Palestinian refugee camps. These experiences inspired his last book, Prisoner of Love, in 1983. It was completed just before he died.