---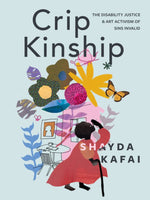 by Shayda Kafai
Arsenal Pulp Press
12/7/21, paperback
SKU: 9781551528649
In recent years, disability activism has come into its own as a vital and necessary means to acknowledge the power and resilience of the disabled community, and to call out ableist culture wherever it appears.
Crip Kinship explores the art-activism of Sins Invalid, a San Francisco Bay Area-based performance project, and its radical imaginings of what disabled, queer, trans, and gender nonconforming bodyminds of color can do: how they can rewrite oppression, and how they can gift us with transformational lessons for our collective survival.
Grounded in their Disability Justice framework, Crip Kinship investigates the revolutionary survival teachings that disabled, queer of color community offers to all our bodyminds. From their focus on crip beauty and sexuality to manifesting digital kinship networks and crip-centric liberated zones, Sins Invalid empowers and moves us toward generating our collective liberation from our bodyminds outward.
Reviews:
"As a scholar of belonging, it has taken me so long to let my own disabled bodymind belong - to feel the holy connective power in my pain, the ways I need help, my healing story - and to let myself belong in community as I truly am. Sins Invalid opened a portal that so many of the people who have taught me to live fully into the wholeness of my present have both held wide and come thru. This book invites a new generation through that portal of disability justice, to feel the powerful nature of us in our miraculous biodiversity and symbiosis, the love ethic in practice, the creative reclamation of our dignity, and the future that will unfold from our orgasmic yes. Shayda Kafai, in weaving this story, takes a place in the lineage of crip doulas who help us understand we are whole, and different, and perfect." --adrienne maree brown, author of Pleasure Activism: The Politics of Feeling Good
"As a longtime admirer of Sins Invalid, I am grateful for Shayda Kafai's Crip Kinship: The Disability Art Activism of Sins Invalid. Crip wisdom and disability justice is what we need right now. Dreams, creativity, care ... all of these things are activism. The world can be better if we honor our bodyminds and move forward together. A must-read for anyone who wants to understand the difference between disability justice and disability rights." --Alice Wong, editor, Disability Visibility: First-Person Stories from the Twenty-First Century
About the Author:
Shayda Kafai is an Assistant Professor of Gender and Sexuality Studies at California State Polytechnic University, Pomona. As a queer, Mad, femme of color, she commits to enacting the many ways we can reclaim our bodyminds from intersecting systems of oppression. She lives in Pomona, California with her wife, Amy.