---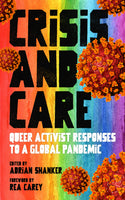 Edited by Adrian Shanker
PM Press
8/16/2022, paperback
SKU: 9781629639352
Crisis and Care reveals what is possible when activists mobilize for the radical changes our society needs.
In a time of great uncertainty, fear, and isolation, Queer activists organized for health equity, prison abolition, racial justice, and more. Nobody who lived through the COVID-19 pandemic will soon forget the challenges, sacrifices, and incredible loss felt during such an uncertain time in history.
Crisis and Care anthologizes not what happened during COVID-19, or why it happened, but rather how Queer activists responded in real time. It considers the necessity to memorialize resiliency as well as loss, hope as well as pain, to remember the strides forward as well as the steps back.
Activist contributors Zephyr Williams, Mark Travis Rivera, Jamie Gliksburg, Denise Spivak, Emmett Patterson, Omar Gonzales-Pagan, Kenyon Farrow, and more provide a radical lens through which future activists can consider effective strategies to make change, even or perhaps especially, during periods of crisis.
With a foreword by Rea Carey.
Reviews:
"How did we respond? That is the central question in Crisis and Care. Lots of books will look at COVID-19, but this book looks at how LGBTQ activists responded to one of the most challenging moments of our lives." —Igor Volsky, author of Guns Down: How to Defeat the NRA and Build a Safer Future with Fewer Guns
"Adrian Shanker has emerged in recent years as an urgent and prescient voice on matters concerning queer health. Crisis and Care: Queer Activist Responses to a Global Pandemic is timely, important and shares a message we ignore at our own peril. The response to COVID-19 from LGBTQ communities is informed by our own experience with a deadly pandemic made vastly worse by poor presidential leadership. Our lived experience over the past 40 years has valuable lessons for how we should be addressing today's viral threats." —Sean Strub, author of Body Counts: A Memoir of Politics, Sex, AIDS, and Survival
About the Contributors:
Adrian Shanker is editor of the critically acclaimed anthology Bodies and Barriers: Queer Activists on Health (PM Press) and the executive director of Bradbury-Sullivan LGBT Community Center in Allentown, PA. A specialist in LGBT health policy, he has developed leading-edge health promotion campaigns to advance health equity through behavioral, clinical, and policy changes. Adrian serves as Commissioner and health committee co-chair on the Pennsylvania Commission on LGBTQ Affairs.
Rea Carey served as the National LGBTQ Task Force's executive director from 2008 to 2021 and has advanced a vision of freedom for LGBTQ people and their families that is broad, inclusive, and progressive. She grounds her work solidly in racial, economic, gender and social justice. Currently, Rea is the principal of Carey Forward consulting, providing executive coaching and working with executives and boards to provide strategic advice, succession and transition planning, crisis management, and to sharpen their leadership skills.