---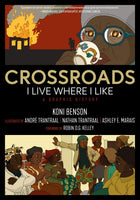 by Koni Benson, Illustrated by André Trantraal, Nathan Trantraal, and Ashley E. Marais
PM Press
3/16/2021, paperback
SKU: 9781629638355
Drawing on over sixty life narratives, it tells the story of women who built and defended Crossroads, the only African informal settlement that successfully resisted the apartheid bulldozers in Cape Town. The story follows women's organized resistance from the peak of apartheid in the 1970s to ongoing struggles for decent shelter today. Importantly, the history was workshopped with contemporary housing activists and women's collectives who chose the most urgent and ongoing themes they felt spoke to and clarified challenges against segregation, racism, violence, and patriarchy standing between the legacy of the colonial and apartheid past and a future of freedom still being fought for. Presenting dramatic visual representations of many personalities and moments in the daily life of this township, the book presents a thoughtful and thorough chronology and archival newspapers, posters, photography, pamphlets, newsletters, and documentary clips that further illustrate the significance of the struggles at Crossroads for the rest of the city and beyond.
Reviews:
"Through the narratives of women's struggles told in an honest and compelling way, Crossroads is an essential activist's handbook. It is a long-awaited and important compilation that is fundamental in understanding how women rose up against oppression and dispossession." --Nomusa Makhubu, winner of the ABSA L'Atelier Gerard Sekoto Award and the Prix du Studio National des Arts Contemporains, Le Fresnoy
"I am aware of this work because of its international circulation and reputation for advancing quality scholarship in original forms and formats. I cannot speak too highly of this series, which dramatizes African women's collective resistance to political oppression in a historically grounded yet accessible medium--what we have come to call the graphic history." --Antoinette Burton, author of The Trouble with Empire
About the Author:
Koni Benson is a historian, organizer, and educator.
Ashley E. Marais is a comic book artist, designer, and painter.
André Trantraal is a writer, illustrator, and translator.
Nathan Trantraal is a poet, cartoonist, translator, and writer.