---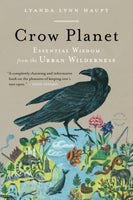 by Lyanda Lynn Haupt
Little, Brown Spark
4/21/2011, paperback
SKU: 9780316019118
There are more crows now than ever. Their abundance is both an indicator of ecological imbalance and a generous opportunity to connect with the animal world. Crow Planet reminds us that we do not need to head to faraway places to encounter "nature." Rather, even in the suburbs and cities where we live we are surrounded by wild life such as crows, and through observing them we can enhance our appreciation of the world's natural order.
Crow Planet richly weaves Haupt's own "crow stories" as well as scientific and scholarly research and the history and mythology of crows, culminating in a book that is sure to make readers see the world around them in a very different way.
Reviews:
"Haupt takes a philosophical look at her own backyard investigation of a crow's life and challenges the view that an urban existence is detached from wilderness, while exemplifying the joy that can come with nurturing a curiosity with a raucous little bird."—Seed
"In a lyrical narrative that blends science and conscience, Haupt mourns the encroachments of urbanization, but cherishes the wildness that survives."—Liesl Schillinger, New York Times
"A completely charming and informative book on the pleasures of keeping one's eyes open."—David Sedaris
About the Author:
Lyanda Lynn Haupt is a naturalist, ecophilosopher, and author of Mozart's Starling, The Urban Bestiary, Crow Planet, Pilgrim on the Great Bird Continent, and Rare Encounters with Ordinary Birds. A winner of the Washington State Book Award and the Sigurd F. Olson Nature Writing Award, she lives in Seattle with her husband and daughter.