---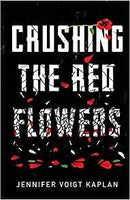 by Jennifer Voigt Kaplan
Ig Publishing
12/3/2019, paperback
SKU: 9781632460950
What if the person you are supposed to hate is the one person who can save you?
Crushing the Red Flowers is the story of how two ordinary boys cope under the extraordinary circumstances of Kristallnacht. Emil Rosen and Friedrich Weber couldn't have less in common, but in the summer of 1938, they must both deal with the changes steamrolling through Germany. Friedrich struggles with an uncle in jail and a cruel Hitler Youth leader, while Emil does his best to avoid the blistering anti-Semitism that's threatening his family. As the rules of yesterday no longer make sense, both boys find comfort at a private spot along the Leine River. Then in the late hours of November 9th, their world explodes, and the two boys are forced together in a race against time that requires Friedrich to risk his life in order to save Emil and his family.
Reviews:
"Germany in 1938 comes alive and will be unforgettable to young readers in this powerful debut novel, Crushing the Red Flowers."--James Patterson
"Never before have I read a piece of fiction that felt so true. This deeply powerful and poignant book is an important addition to world literature."--Taran Matharu, New York Times best-selling author
"Family loyalty, government opposition, bullying, and facing total upheaval in one's life are dealt with memorably in this multilayered tale."--Kirkus
Author:
Jennifer Voigt Kaplan is an award-winning author of children's fiction. Her short stories have been published in compilation books and magazines, including Hopscotch for Girls and New Mitzvah Stories for The Whole Family. Her debut upper middle-grade novel, Crushing the Red Flowers, was awarded a Letter of Merit for the 2012 SCBWI Work-in-Progress Grant and won first place in the middle-grade category of Publishers Weekly 2016 Booklife Prize for Fiction. It was also honored in the William Faulkner/ William Wisdom Creative Writing Competition, the Key West Literary Seminar Emerging Writer Award, the Gertrude Warner Award, the A Woman's Write Unpublished Novel Contest, and the Authors.me Diversity Contest. Jennifer currently resides in New Jersey and holds an undergraduate degree from the Wharton School of Business in marketing and a graduate degree from the London School of Economics in social psychology.