---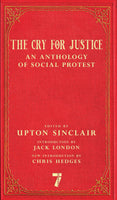 Edited by Upton Sinclair
Seven Stories Press
1/28/2020, paperback
SKU: 9781609808365
The writings of philosophers, poets, novelists, social reformers, and others who have voiced the struggle against social injustice. Selected from twenty-five languages, covering a period of five thousand years.
This bold anthology of social protest, art, and literature is the preeminent collection of progressive thought, literature, and art through the ages, all in the service of voicing the struggle against social injustice.
In 1915, shortly after the runaway success of his famous muckraking novel about the Chicago slaughterhouse industry, The Jungle, Upton Sinclair took time out of his busy writing and political organizing life to collect and then edit into a single volume work by the artists, novelists, philosophers, poets, and journalists who had inspired him.

This nearly thousand-page book includes work by Upton Sinclair, Jack London, Euripides, Dante, Emile Zola, Leo Tolstoy, William Blake, John Keats, Edward Bellamy, Charles Dickens, Walt Whitman, Charlotte Perkins Gilman, Rabindranath Tagore, Mark Twain, Abraham Lincoln, and many, many others in the form of essays, stories, poems, tracts, jokes, protests, and first-person accounts. Together they highlight a long, undying progressive socialist tradition that most recently surfaced in Bernie Sanders's 2016 and 2020 presidential campaigns. The Cry for Justice is not a history book, it's a book for inspiring a better future, as relevant today as when it was first published.
H. G. Wells, a contributor, referred to The Cry for Justice as Sinclair's "Book of Life." Jack London's enthusiastic introduction, in which he calls The Cry for Justice a "humanist Holy Book," ends with "To see gathered here together this great body of human beauty and fineness and nobleness is to realize what glorious humans have already existed, do exist, and will continue increasingly to exist until all the world beautiful be made over in their image. We know how gods are made. Comes now the time to make a world."
About the Author:
Upton Sinclair was the leading socialist American writer of the 20th century, publishing nearly a hundred books before his death in 1968. His work includes dozens of historical novels, numerous non-fiction works of muckraking journalism, socialist political tracts, drama, poetry, and several volumes of autobiography. Sinclair was also a socialist political organizer and was nearly elected governor of California in 1934. His most famous novel, The Jungle, published in 1906, exposed the horrific conditions in the US meatpacking industry, and is still a best selling book today. Jack London called it "the Uncle Tom's Cabin of wage slavery." Sinclair won the 1943 Pulitzer Prize for fiction for Dragon's Teeth, a novel set during the Nazi takeover of Germany during the 1930s. Oil!, his Southern California political satire, was the inspiration for the 2007 film There Will Be Blood. Numerous other works by Sinclair were adapted for film, television, and the stage. Sinclair engaged with and supported progressive and socialist work of all kinds. He founded a utopian community, edited works by other progressive writers and artists, was arrested at numerous protests, and traveled and lectured widely in support of progressive causes.