---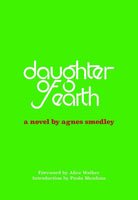 by Agnes Smedley, Paola Mendoza (introduction), Alice Walker (foreword), Nancy Hoffman (afterword)
Feminist Press
10/8/2019, paperback
SKU: 9781936932788
A Feminist Press classic, reissued with a new introduction by Paola Mendoza, this semiautobiographical account of an early twentieth-century activist recounts growing up in rural poverty in farming settlements and mining towns; discovering the double standards of race and sex among East Coast intellectuals; facing false espionage charges; and maintaining independence through two difficult marriages. Daughter of Earth was one of the first works to explore sexism within the socialist movement.
Reviews:
"We owe our world to women like Agnes Smedley, who worked without peace or resolution toward a future they could not see." --Paola Mendoza
"A precious, priceless book." --Alice Walker
Agnes Smedley's memories tasted of hunger." --The New York Times Book Review

"A tale of American disinheritance told from the inside out, [this novel] is essentially about Smedley's struggle to come to spiritual consciousness in a world of unimaginable cruelty and deprivation. . . An entire society is limned in the pages of this book. . . The power of Daughter of Earth lies in the erotic heat which informs every page of the book, erotic in the original Greek sense of life force." --The Village Voice
Author:
Agnes Smedley (1892 - 1950) was an American journalist and writer, well known for her semi-autobiographical novel Daughter of Earth as well as for her sympathetic chronicling of the Communist forces in the Chinese Civil War. During World War I, she worked in the United States for the independence of India from the United Kingdom, receiving financial support from the government of Germany. Subsequently, she went to China, where she is suspected of acting as a spy for the Comintern. As the lover of Soviet super spy Richard Sorge in Shanghai in the early 1930s, she helped get him established for his final and greatest work as spymaster in Tokyo. She also worked on behalf of various causes including women's rights, birth control, and children's welfare. Smedley wrote six books, including a novel, reportage, and a biography of the Chinese general Zhu De, reported for newspapers such as New York Call, Frankfurter Zeitung, and Manchester Guardian, and wrote for periodicals such as the Modern Review, New Masses, Asia, New Republic, and The Nation.