---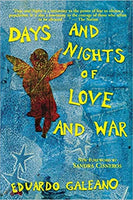 by Eduardo Galeano
Monthly Review Press
10/1/2000, paperback
SKU: 9781583670231
Days and Nights of Love and War is the personal testimony of one of Latin America's foremost contemporary political writers. In this fascinating journal and eloquent history, Eduardo Galeano movingly records the lives of struggles of the Latin American people, under two decades of unimaginable violence and extreme repression. Alternating between reportage, personal vignettes, interviews, travelogues, and folklore, and richly conveyed with anger, sadness, irony, and occasional humor, Galeano pays loving tribute to the courage and determination of those who continued to believe in, and fight for, a more human existence. The Lannan Foundation awarded the 1999 Cultural Prize for Freedom to Eduardo Galeano, in recognition of those "whose extraordinary and courageous work celebrates the human right to freedom of imagination, inquiry and expression."
Reviews:
"Days and Nights succeeds not only because of its socio-political authenticity and lyrical style but because of its interweaving of anger and tenderness, elation and sorrow." --The Nation
About the Author:
EDUARDO GALEANO is the author of Open Veins of Latin America, Memory of Fire Trilogy, Book of Embraces and the forthcoming Upside Down.