---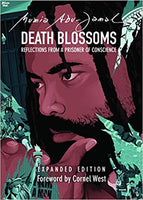 by Mumia Abu-Jamal 
City Lights Books
12/17/2019, paperback (second edition)
SKU: 9780872867970
During the spring of 1996, black journalist Mumia Abu-Jamal was living on death row and expecting to be executed for a crime he steadfastly maintained he did not commit--the murder of a white Philadelphia police officer. It was in that period, with the likelihood of execution looming over him, that he received visits from members of the Bruderhof spiritual community--refugees from Hitler's Germany--anti-fascist, anti-racist, and deeply opposed to the death penalty. Inspired by the encounters, Mumia hand-wrote Death Blossoms--a series of short essays and personal vignettes reflecting on his search for spiritual meaning, freedom, and truth in a deeply racist and materialistic society.
Featuring a new introduction by Mumia and a report by Amnesty International detailing how his trial was "in violation of minimum international standards," this new edition of Death Blossoms is essential reading for the Black Lives Matter era, and is destined to endure as a classic in American prison literature.
Reviews:
"Uncompromising, disturbing ... Abu-Jamal's voice has the clarity and candor of a man whose impending death emboldens him to say what is on his mind without fear of consequence."--The Boston Globe
"Abu-Jamal's words flow like the sap from trees, pulsing with energy and capturing the essence of life."--Library Journal
"Vigorous social critiques and moving essays on matters of faith ... the flame of Abu-Jamal's keen intellect and irrepressible soul burns brightly, illuminating each mind that opens to his wise words."--Booklist
"A brilliant, lucid meditation on the moral obligation of political commitment by a deeply ethical--and deeply wronged--human being. Mumia should be freed, now."--Henry Louis Gates, Jr.
"A brilliant, powerful book by a prophetic writer. Mumia refuses to allow his spirit to be broken by the forces of injustice; his language glows with an affirming flame."--Jonathan Kozol
"Crucial reading for all opponents of the death penalty--and for those who support it, too."--Katha Pollitt, The Nation
"If Mumia Abu-Jamal has nothing important to say, why are so many powerful people trying to kill him and shut him up? Read him."--John Edgar Wideman
Author:
Mumia Abu-Jamal is an award-winning journalist, political activist, and author. In 1981, he was elected president of the Association of Black Journalists (Philadelphia chapter) and was a radio reporter for National Public Radio (NPR). As part of a team of reporters at WHYY, one of NPR's premier stations, he won the prestigious Major Armstrong Award from Columbia University for excellence in broadcasting.
On December 9, 1981, Abu-Jamal was shot, arrested, and charged for killing a white police officer in Philadelphia. In 1982 he was convicted and sentenced to death in a trial that Amnesty International determined "clearly failed to meet minimum international standards safeguarding the fairness of legal proceedings." After he had spent over 28 years on Death Row, in 2011 Abu-Jamal's death sentence was vacated when the Supreme Court affirmed the decisions of four federal judges who had declared his death sentence unconstitutional. He is now serving a life sentence without the possibility of parole. Throughout his decades of imprisonment, most of which was spent in solitary confinement on Death Row, Abu-Jamal has steadfastly maintained his innocence.
Abu-Jamal obtained his GED in prison in July 1992; he earned his BA from Goddard College in January 1996; he was awarded an honorary Doctorate of Law degree from the New College of California in May1996; and in 1999, he earned a Masters of Arts degree from California State University, Dominguez Hills. He is currently working on his Ph.D.
Abu-Jamal has produced radio commentaries with Prison Radio for decades, and has authored more than 10 books, including Death Blossoms, Live From Death Row, We Want Freedom, Jailhouse Lawyers, The Classroom and the Cell, Murder Incorporated, Writing on the Wall, and Have Black Lives Ever Mattered?
In late 2018, Abu-Jamal's right to appeal was reinstated by a Philadelphia judge. The ongoing fight for his freedom continues.