---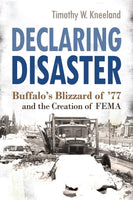 by Timothy W. Kneeland
Syracuse University Press
5/25/2021, paperback
SKU: 9780815611271
On Friday, January 28, 1977, it began to snow in Buffalo. The second largest city in New York State, located directly in line with the Great Lakes' snowbelt, was no stranger to this kind of winter weather. With their city averaging ninety-four inches of snow per year, the citizens of Buffalo knew how to survive a snowstorm. But the blizzard that engulfed the city for the next four days was about to make history.
Between the subzero wind chill and whiteout conditions, hundreds of people were trapped when the snow began to fall. Twenty- to thirty-foot-high snow drifts isolated residents in their offices and homes, and even in their cars on the highway. With a dependency on rubber-tire vehicles, which lost all traction in the heavily blanketed urban streets, they were cut off from food, fuel, and even electricity. This one unexpected snow disaster stranded tens of thousands of people, froze public utilities and transportation, and cost Buffalo hundreds of millions of dollars in economic losses and property damages.
The destruction wrought by this snowstorm, like the destruction brought on by other natural disasters, was from a combination of weather-related hazards and the public policies meant to mitigate them. Buffalo's 1977 blizzard, the first snowstorm to be declared a disaster in US history, came after a century of automobility, suburbanization, and snow removal guidelines like the bare-pavement policy. Kneeland offers a compelling examination of whether the 1977 storm was an anomaly or the inevitable outcome of years of city planning. From the local to the state and federal levels, Kneeland discusses governmental response and disaster relief, showing how this regional event had national implications for environmental policy and how its effects have resounded through the complexities of disaster politics long after the snow fell.
Reviews:
"An insightful and well-written book about the evolution of public policy with respect to weather crises and snowstorms in particular." -- Andrew Reeves, Washington University in St. Louis
"Kneeland has crafted for us a rigorous, scholarly volume that is also captivating, disturbing, instructive, and yet fun to 'plow' through. Declaring Disaster delivers and applies an array of perspectives that cleverly investigates elements of US disaster politics and management through telling the story of a vital NYS municipality befallen by an epic blizzard." -- Richard Sylves, author of Disaster Politics and Policy

About the Author:
Timothy W. Kneeland is professor and chair of history and political science at Nazareth College. He is the author of Pushbutton Psychiatry: A Cultural History of Electroshock in America and Playing Politics with Natural Disaster: Hurricane Agnes, the 1972 Election, and the Origins of FEMA.